Products: We offer the following turf grasses.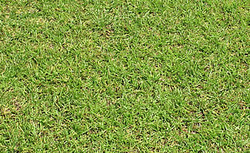 Centipede Turf Grass

Centipede is widely grown in the southeastern United States. Centipede is a low maintenance turf grass ideally suited for lawns. It does not grow vertically as quickly as other grasses and therefore does not need to be cut as often. It also requires less nitrogen than St. Augustine and may not require as much fertilizer. It is a warm season perennial grass that spreads by stolons which produce rather short, upright stems resembling a centipede-thus the name centipede grass. It has a medium width blade, is yellow-green in color, and forms a dense turf. Centipede turns brown after a hard frost, but recovers when the temperatures are favorable. It is moderately shade tolerant, but grows best in full sun.
---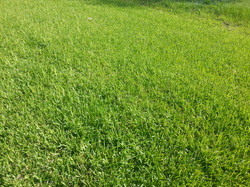 St. Augustine Turf Grass

St. Augustine, often called carpet grass, is a wide blade grass. It is a warm season perennial grass, which spreads by large creeping stolons and is propagated from sod or sod plugs. It is limited to areas with mild winter temperatures and is the most shade tolerant of the warm season grasses. It has good fall color and will maintain a bit of green even when it goes dormant after the first frost. St. Augustine grass has a good drought tolerance and has the best shade tolerance available. It does require a little more nitrogen than Centipede so it will require an additional application of fertilizer. It also grows vertically a little faster than the other grasses so will require mowing more frequently to maintain that fresh cut look.
---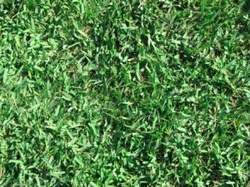 Zoysia Turf Grass

Zoysia is a medium blade grass. It is a warm season perennial grass that spreads through stolons and rhizomes therefore it must be grown from sod or plugs. Some varieties spread quickly while others are more slow to spread. Either way it doesn't take very long to establish a nice thick beautiful lawn. Zoysia is considered to be a premium grass. It is more weed resistant than other turf grasses due to it's dense growth and it is also very disease resistant. It requires less mowing, less watering, it develops an extensive deep root system giving it excellent drought tolerance, has good shade tolerance, and stands up extremely well to traffic. Zoysia has been around for centuries and was imported from Asia. Zoysia is very tolerant of some less than ideal soils and is among the first plants to grow in areas after volcanic eruptions. In warm climates it is one of the last grasses to go dormant in the Fall and one of the first to recover in the Spring so your lawn will stay green longer.
---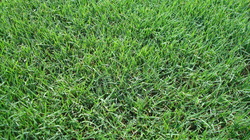 Bermuda - Tifway 419

Tifway 419 is a high quality Bermuda turf grass that was developed for high traffic areas like athletic fields, golf tees & fairways, commercial areas, and even lawns. It has a dark green color with a medium to fine width blade, this combined with a dense upright growth make for a nice looking lawn. However, it is a higher maintenance grass that will require more water, more fertilizer, and more frequent mowing than Centipede or St. Augustine to keep that freshly manicured look. It is rapid spreading and recovers quickly from damage making it very durable. It also tolerates close mowing and is highly disease resistant. This grass requires full sun for most of the day and is not recommended for shady areas.

---
As always,if you have questions please don't hesitate to contact us and ask.